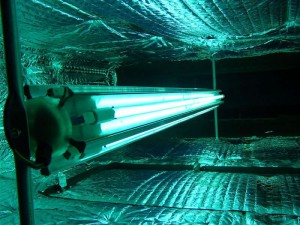 This product category consists of UV Air Purification Systems designed to sterilize & destroy biological & chemical contaminants that circulate throughout the building or facility.
For airstream disinfection, the Bio-wall is an excellent choice.  Bio-wall is installed in the ductwork downstream of the blower which cleans and disinfects the air prior to releasing it into the designated room.  It comes with a remote screen for monitoring.  The manufacturer has performed extensive testing that shows that a 60 in. Bio-wall kills 100% of the Covid-19 virus at 30,000 CFM.
Another option for room disinfection is the model S300 by Sanuvox.  These units utilize UV with HEPA filtration to clean and disinfect the air.  They are available as a stand-alone unit that can be mounted on a wall or you can also get it on castors so it can be easily moved as needed for the purification of a specific area.
Hospital-grade – like those that protect surgery rooms there is the Asept2x.  This will sterilize and disinfect surfaces in individual rooms.
Another room disinfection option is to use a filtered, positive pressure solution such as that used in isolation rooms for hospital patients.
Biowall Max brochure